If you do not have time for the details, here are our top picks for best muzzleloader scopes:
As more and more states have implemented specific hunting seasons dedicated to primitive weapons, modern muzzleloaders have gained major popularity among serious big game hunters.
When topped with the best muzzleloader scope, modern blackpowder rifles are capable of surprising long range accuracy. However, finding a quality optic worthy of mounting on a modern muzzleloader is no easy feat. Blackpowder weapons demand very specific qualities from an optic.
Not sure what to look for? Don't worry, we're here to help you find the perfect scope to help you tag that once-in-a-lifetime buck.
Why You Need a Muzzleloader Scope
Muzzleloading firearms have been around for a long time. However, today's modern black powder weapons are far more technologically advanced than those carried by our ancestors. In fact, most modern muzzleloaders bear little resemblance to those antiquated weapons used by Daniel Boone, Davy Crocket, and other early pioneers.
Most modern muzzleloaders feature an inline ignition and propellant system, as well as aggressive barrel rifling. They also shoot high-performance projectiles with cutting-edge designs that offer serious ballistic performance.
Because modern muzzleloaders offer better accuracy and a further effective range than ever before, they just beg to be paired with a modern optic. After all, when you are hunting with a muzzleloader, you only get one shot to fill that tag. Using a quality optic will help you shoot more accurately and consistently, especially when shooting targets at a distance.
How to Choose a Scope for Your Muzzleloader
Although muzzleloader technology has definitely come a long way, even modern muzzleloaders are quite different from breech-loading rifles. Here are some key things to consider when you're shopping for a muzzleloader optic.
Recoil
Muzzleloaders produce some seriously robust recoil. You'll need an optic that is tough enough to withstand that massive recoil force without falling apart. Your scope also needs to hold its zero, even after enduring that intense force time after time.
Durability is incredibly important in a muzzleloader scope. Look for one that is o-ring sealed and shockproof for best results.
Eye Relief
Finding a scope with ample eye relief is extra important for muzzleloader shooting. The excessive recoil produced with black powder ignition can drive a scope backwards with so much force it could take off your eyebrow (or worse). To protect your brow and prevent painful eye bruising, choose a scope that offers at least three inches of eye relief.
Scope Mounts
Even if you decide to go with a scope that isn't designed specifically for muzzleloaders, you may need to swap out your scope mounts. Only use top-quality scope mounts and rings capable of standing up to that powerful black powder recoil. You should also check your mounts regularly to ensure your optic is secure and your crosshairs haven't vibrated off course.
BDC Reticle
Bullets fired from black powder rifles will drop more over distance than most slugs fired from breech-loading rifles. A scope with a bullet drop compensating (BDC) reticle will help you quickly adjust your point of aim so you can hit your target accurately, no matter the range to your target. Look for models with reticle calibrated specifically for back powder loads.
Magnification
The effective range of a muzzleloader is much closer than that of a standard high-caliber rifle. You definitely won't be dropping deer at 500 yards with a modern smoke pole, no matter which optic you have mounted on top. The sweet spot for most muzzleloaders is right around 100 yards.
Massive magnification will be more of a hindrance than a help when shooting at standard muzzleloader distances. Something in the 3-9x range will usually serve best in most shooting situations.
Comparison Table
Image
Product
Features

Konus Pro 275 Muzzleloader Riflescope

Magnification:

3-9x

Objective lens:

40mm

Eye Relief:

3 inches

VIEW ON AMAZON → VIEW ON OPTICSPLANET →

Leupold VX-Freedom Muzzleloader Scope

Magnification:

3-9x

Objective lens:

40mm

Eye Relief:

4.2 - 3.7 inches

VIEW ON AMAZON →

Sig Sauer Sierra 6 BDX Scope

Magnification:

5-30x

Objective lens:

56mm

Eye Relief:

3.7 - 3.9 inches

VIEW ON OPTICSPLANET →

Thompson Center Hawken Hunter Muzzleloader Scope

Magnification:

1x

Objective lens:

32mm

Eye Relief:

3 inches

VIEW ON OPTICSPLANET →

Mueller Optical 2-7x32mm Multishot Waterproof Riflescope

Magnification:

2-7x

Objective lens:

32mm

Eye Relief:

3.5 inches

VIEW ON OPTICSPLANET →

Nikon Prostaff P5 Scope

Magnification:

2.5-10x

Objective lens:

42mm

Eye Relief:

4-3.8 inches

VIEW ON AMAZON →

Primary Arms Illuminated Riflescope

Magnification:

1-4x

Objective lens:

24mm

Eye Relief:

3.5 inches

VIEW ON OPTICSPLANET →

Traditions Performance Firearms Muzzleloader Hunter Series

Magnification:

1-9x

Objective lens:

40mm

Eye Relief:

3 inches

VIEW ON AMAZON →
Top 8 Best Muzzleloader Scope Reviews
Muzzleloaders are a special kind of beast. You can't just slap any old optic on a black powder rifle and expect to hit where you're aiming. For shooting success, you'll need a sturdy riflescope engineered to handle the powerful recoil of the average muzzleloader. If you aren't sure where to start, here is a list of our favorite models to help you out.
1. Konus Pro 275 Muzzleloader Riflescope
The Konus Pro 275 was designed specifically for modern muzzleloaders. Konus developed their own proprietary ballistic reticle that offers precise aiming points for muzzleloader distances from 75 to 275 yards. The laser-etched hash marks are specially calibrated to match the ballistic performance of the most popular black powder loads.
The Konus Pro 275 features 3-9x magnification, a 40mm objective lens, and fully multi-coated lenses that produce bright, crisp images, even in low light shooting conditions.
The turrets on the Pro 275 provide crisp, audible click adjustments for windage and elevation. We also love the zoom ring on this model. It is butter-smooth and easy to adjust, whether you're at the local gun range or deep in the backcountry.
Weighing over 14 ounces and measuring 5 ½ inches long, the Konus Pro 275 may be a bit bulky for some hunters. However, its solid construction makes it plenty durable for harsh recoil, rough use, and tough conditions.
2. Leupold VX-Freedom Muzzleloader Scope
Whether you shoot primitive weapons or modern semi-autos, most shooters know Leupold Optics makes some of the best riflescopes on the market today. They even back each of their scopes with a full lifetime warranty.
The Leupold VX-Freedom line-up offers practical and affordable scopes suitable for a variety of applications. The Muzzleloader model is solidly built from 6061-T6 aircraft grade aluminum, and it offers plenty of eye-relief. The housing is also nitrogen purged and o-ring sealed to ensure reliable fogproof, waterproof, shockproof performance.
The VX-Freedom Muzzleloader scope also features Leupold's UltimateSlam reticle with BDC marks calibrated for black powder sabot loads.
Perfect for hunting at first and last light, the VX-Freedom features Leupold's exclusive Twilight Light Management multi-coatings. These unique coatings are formulated to enhance light transmission to provide sharp, clear images, even in the lowest light conditions. The company even claims Twilight Light Management will add up to ten more minutes of shooting light to the start and end of each hunting day.
3. Sig Sauer Sierra 6 BDX Scope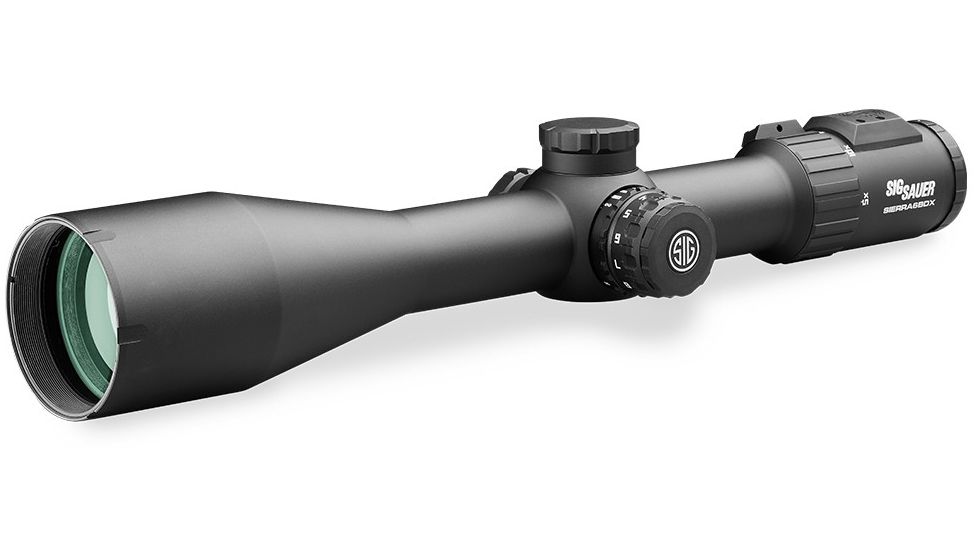 There's plenty to love about this high-quality rifle scope from Sig Sauer, including its solid, o-ring sealed, argon-purged construction, and the Advanced HDX 6x Optical System that delivers jaw-dropping image clarity and awesome light transmission. The scope also offers a massive objective lens, wide field of view, and generous eye relief.
However, what really sets this optic apart from the competition is its BDX-R2 digital reticle. This highly detailed reticle can be paired with Sig's BDX rangefinder to get applied muzzleloader ballistics for the most precise windage and elevation aiming points possible. The scope also features a cutting-edge KinETHIC Kinetic Energy Transfer Indicator so you can deliver ethical shots for quick, humane kills and easy game recovery.
4. Thompson Center Hawken Hunter Muzzleloader Scope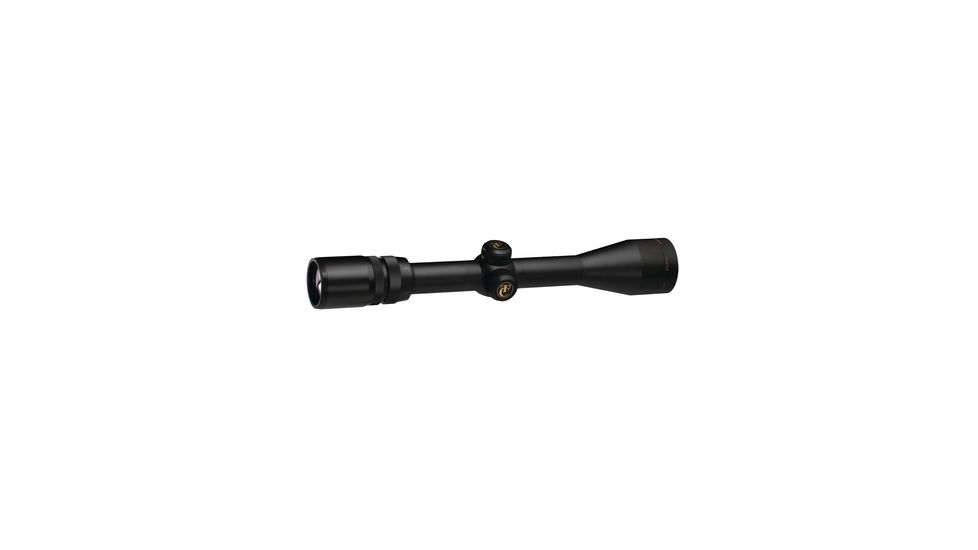 Thompson Center makes some of the best muzzleloaders on the modern market, so pairing one of their rifles with an optic from the same company just makes sense. Their Hawken Hunter is one of the Thompson Center's best offerings. It features fully coated optics and a generous objective lens for optimized light gathering capabilities.
This model features true 1x magnification and a practical CenterPlex reticle for easy target acquisition. The reticle also provides precision aiming points for targets within the effective range of most modern blackpowder rifles.
The Hawken Hunter has a matte black finish to reduce light reflection and keep you well hidden from the keen eyes of game animals. It is made with a 1-inch tube and weighs only 10.2 ounces, making it a compact, lightweight option for practical backcountry big game hunters.
5. Mueller Optical Multishot Waterproof Riflescope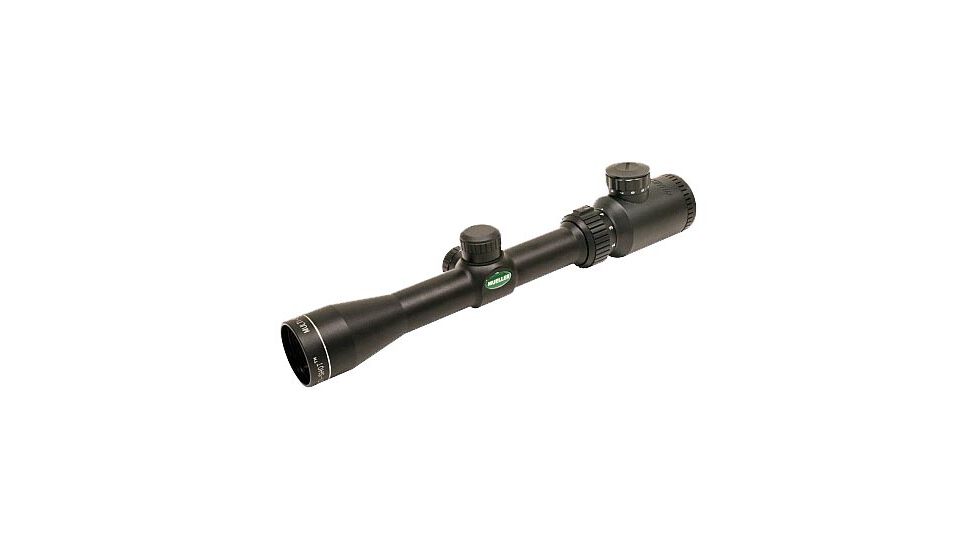 While Mueller isn't exactly a big name in the optics industry, their awesome Multishot Waterproof Riflescope is an affordable option for primitive weapons hunters on a tight budget. The scope features camera-quality, fully multi-coated lenses for incredible clarity and color contrast.
It also features a multi-purpose crosshair reticle that can be used with almost any weapon, including crossbows, muzzleloaders, shotguns, and modern rifles. The reticle has a wide outer circle designed for shot loads. The circle can also be used as a rangefinder or bullet drop compensator for your blackpowder slug loads.   
The reticle also has a center dot aiming point that only covers approximately one inch of your target at 100 yards. This makes it perfect for precision shots on big game animals like deer, elk, moose, and bear. The dot can also be illuminated for easy visibility in low light conditions.
The Mueller Multishot measures just over 11 inches from end to end and weighs just 13 ounces, so it won't weigh you down on those long, physically taxing hunts.
6. Nikon Prostaff P5 Scope
Although the Nikon Prostaff P5 isn't marketed specifically for muzzleloaders, its shockproof construction shrugs off harsh recoil like it's almost nothing. The scope's solid build and BDC reticle also combine to make the Prostaff P5 perfect for blackpowder hunting.
Not only is this riflescope highly functional, it is also quite visually appealing. It has an attractive matte finish and knurled turrets that are both practical and attractive.
The Prostaff P5 also features spring-loaded instant zero reset turrets that offer precise, positive click adjustments so you can quickly zero your optic. The high-quality turrets will also hold your settings even through the punishing recoil of most blackpowder loads.
With fully multi-coated optics, an ample objective lens, and a wide field of view, this scope provides excellent light gathering abilities for crisp, clear images, even in twilight.
7. Primary Arms 1-4x24mm Illuminated Riflescope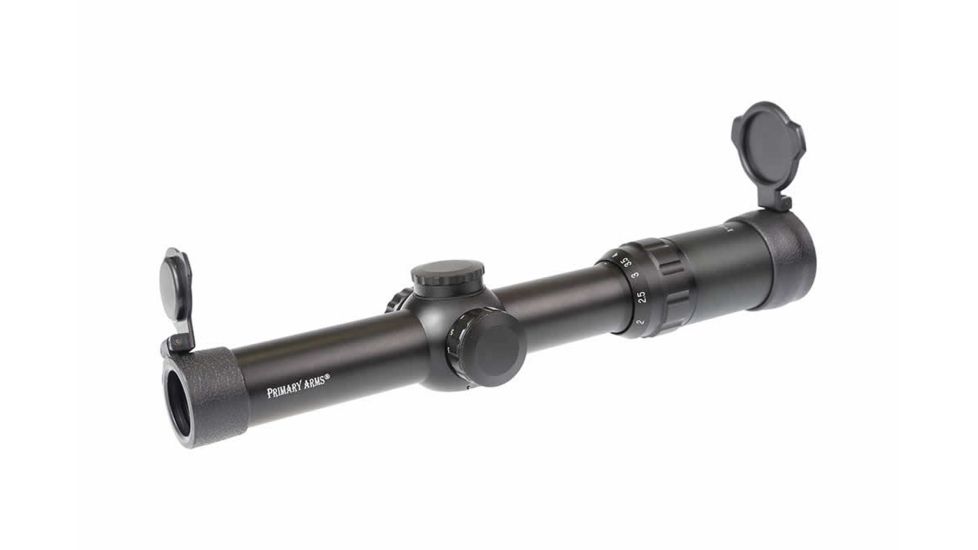 Primary Arms produces top quality optics at surprisingly affordable prices, and this model definitely fits the bill. It features an illuminated center dot duplex reticle with 12 brightness settings to optimize visibility in any light condition. The scope has a generous field of view, and its fully multi-coated optics deliver amazing clarity, especially at the low end of the magnification range.
Primary Arms builds their illuminated riflescopes from tough aircraft grade aluminum. The optics are waterproof and fog resistant for reliable performance in the field.
Hunters will also appreciate the low-profile capped turrets. These easy-to-use turrets allow you to make precise adjustments for windage and elevation. However, their minimalistic design keeps them out of the way when you're maneuvering through the woods or within the tight confines of a hunting blind.
8. Traditions Performance Firearms Muzzleloader Hunter Series
If you're looking for a cheap, reliable, entry-level optic for your muzzleloader, this is it. The Traditions Performance Muzzleloader Hunting Scope features a one-inch, nitrogen purged tube that provides true waterproof, fogproof, shockproof performance.
The scope offers three inches of eye relief and comes with an easy-to-use circle reticle, as well as a fast focus eyepiece to help you get on target fast. The Traditions Performance Muzzleloader scope also features multi-coated crystal lenses that provide better-than-adequate low-light clarity.
The scope also comes with all the rings and bases you need for easy mounting on the most popular inline muzzleloading models.
Final Thoughts
While a quality optic will definitely increase your chances of dropping game with your muzzleloader, it's important to remember that any rifle/optic combo is only as good as the shooter behind it. Even the best muzzleloader scope isn't a magic charm for success. Make sure you invest some time at the gun range to carefully zero your scope. Once you have it sighted in, continue to practice until you are confident and proficient with your weapon.
Also Read:
Alice Jones Webb is a writer, life-long hunter, experienced shooter, and mother of 4 up-and-coming shooting and outdoor enthusiasts. She grew up flinging arrows and bullets at Virginia whitetails, turkey, and game birds, but her favorite hunting experience is chasing bull elk in the Colorado backcountry.
Never one to sit still and look pretty, Alice is also a self-defense instructor and competitive archer. She currently resides in rural North Carolina with her children, non-hunting husband, and a well-stocked chest freezer.